Color banner taken from the Pantone website
Every year in December, Pantone announces the color of the year! Many of us color enthusiasts wait in anticipation to see what the choice is and I have to say I was a little surprised to see this one! Not sure why, I think I was expecting something bright.
Color swatch taken from the Pantone website
The more I look at it's reddy earthy feel I am warming up to it. There is also a metallic feel to some of the images that Pantone uses to tell the story of this color.
image taken from the Pantone website
Here is what Pantone has to say about the color:
"Sensual and bold, delicious Marsala is a daringly inviting tone that nurtures; exuding confidence and stability while feeding the body, mind and soul. Much like the fortified wine that gives Marsala its name, this robust shade incorporates the warmth and richness of a tastefully fulfilling meal, while its grounding red-brown roots point to a sophisticated, natural earthiness."
The color name makes me think of wine of course! But also of food and the lovely earthy colors we find in spices to complement this color choice.

image taken from the Pantone website
Marsala for Interiors
You can add elegance to any room by incorporating this rich and welcoming hue on the walls, accessories and accent pieces. Marsala's characteristics will be enhanced when the color is applied to textured surfaces, making it an ideal choice for rugs and upholstered living room furniture.  Perhaps even sheer curtains at a window?
Gorgeous Marsala toned books from Decor8
Nurturing and fulfilling, Marsala is a natural fit for the kitchen and dining room – making it ideal for tabletop, small appliances and linens throughout the home. Leatrice Eiseman Executive Director, Pantone Color Institute ®
Marsala in Fashion/Beauty
 This hearty, yet stylish tone is universally appealing and translates easily to fashion, beauty, industrial design, home furnishings and interiors. Leatrice Eiseman Executive Director, Pantone Color Institute ®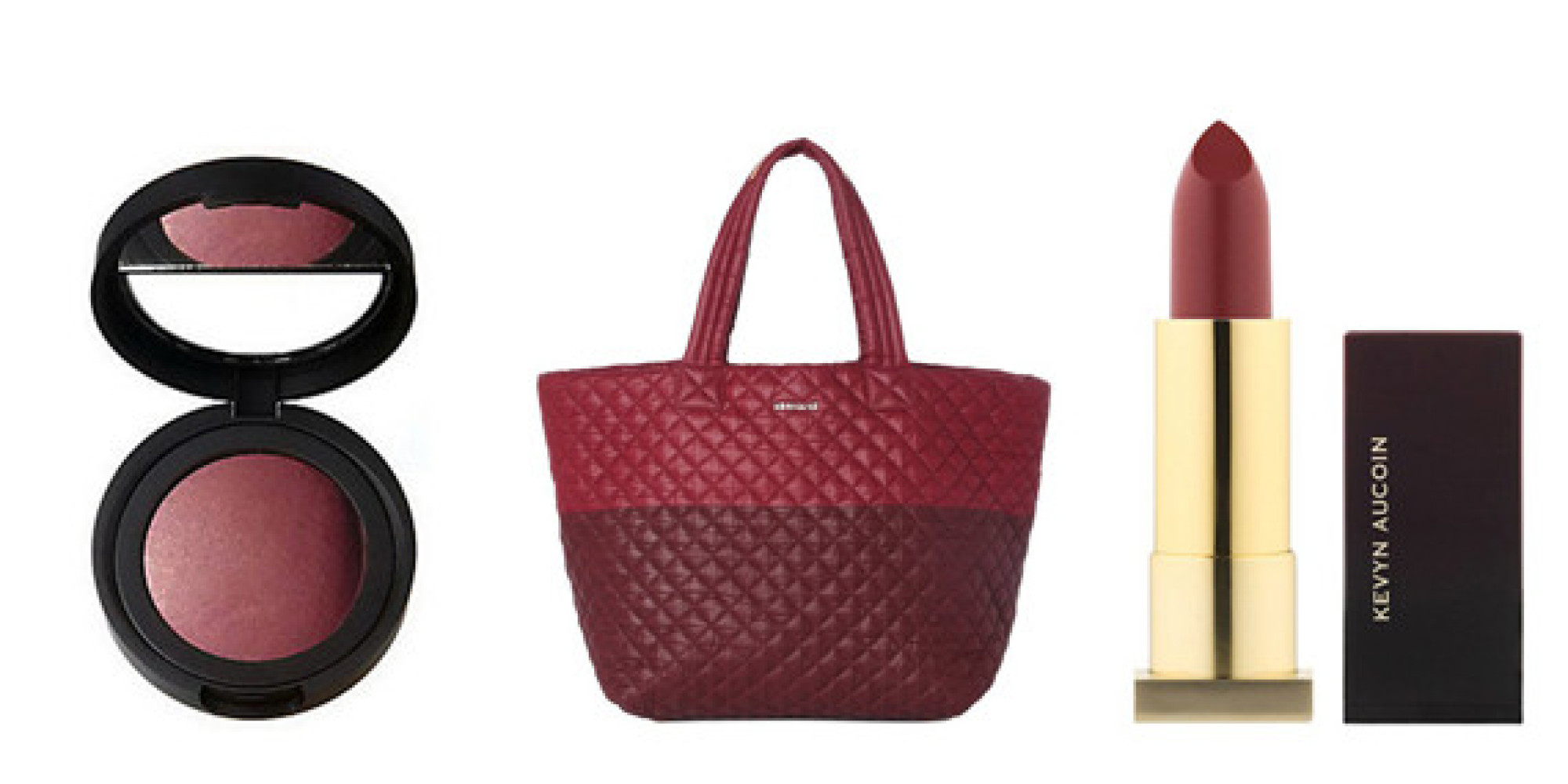 Image from Huffington Post
Why Marsala?
Enjoy a chat with Leatrice Eiseman, Executive Director, Pantone Color Institute and David Shah, Editorial Director PANTONEVIEW.com as they discuss Marsala, the PANTONE Color of the Year 2015 and how this rich and enriching shade can be applied throughout all areas of design.
Watch the video
Read the Press Release
Marsala enriches our mind, body and soul, exuding confidence and stability. Marsala is a subtly seductive shade, one that draws us in to its embracing warmth. Leatrice Eiseman Executive Director, Pantone Color Institute®